Why should radicals be interested in playing wargames? Surely the Left can have no interest in such militarist fantasies? Yet, Guy Debord – the leader of the Situationist International – placed such importance on his invention of The Game of War that he described it as the most significant of his accomplishments.
Intrigued by this claim, a multinational group of artists, activists and academics formed Class Wargames to investigate the political and strategic lessons that could be learnt from playing his ludic experiment. While the ideas of the Situationists continue to be highly influential in the development of subversive art and politics, relatively little attention has been paid to their strategic orientation.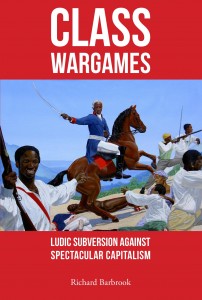 Determined to correct this deficiency, Class Wargames is committed to exploring how Debord used the metaphor of the Napoleonic battlefield to propagate a Situationist analysis of modern society. Inspired by his example, its members have also hacked other military simulations: H.G. Wells' Little Wars; Chris Peers' Reds versus Reds and Richard Borg's Commands & Colors: Napoleonics. Playing wargames is not a diversion from politics: it is the training ground of tomorrow's cybernetic communist insurgents.
Fusing together historical research on avant-garde artists, political revolutionaries and military theorists with narratives of five years of public performances, Class Wargames provides a strategic and tactical manual for overthrowing the economic, political and ideological hierarchies of early-21st century neoliberal capitalism. The knowledge required to create a truly human civilisation is there to be discovered on the game board!
Buy Class Wargames: ludic subversion against spectacular capitalism at a discounted price from Minor Compositions
Click here for a free download of the book.
Click here to access the list of games in the book in order of appearance.
Reviews
Thomas Brandsetter, Miniature Wargames, Issue 382, February 2015
"Where the book shines is in its numerous reflections. Barbrook continually explores the meaning of the games that the group stages and draws attention to the narratives that they produce. … the varied content also makes for fascinating discoveries. And it is never a dry read, as Barbrook succeeds in combining the thrill of intellectual curiosity with the joy of playing a wargame. Highly recommended if you fancy something out of the box."
Sam Cooper, Radical Philosophy, Issue 190, March-April 2015
"The story of the Class Wargames group and its inheritance from a longer Situationist tradition is set within … [a] narrative that is … world-historical in scope. The problem to which Debord's game might provide some answers, Barbrook suggests, is that of the recuperation of historical revolutions. … As well as being gloriously eccentric, this book is deeply personal: it documents the experiences of a particular group of people in playing wargames as much as it discusses the games themselves."
The Ransom Note, New Book Promises Fun Solutions to Everything Crap
" … Class Wargames, a book lying somewhere between academic text, resistance memoir, and rulebook for system smashing."
Phil Sabin, PAXsims, 5th October 2014
"The book is eclectic, erudite and infectiously enthusiastic, ranging as it does from avant garde art to strategic theory. I do not know what Richard's radical readers will make of the scenario diagrams for battles including Marengo and Austerlitz, but the book is a refreshing counter to the widespread suspicion that wargamers are right wing militarists oblivious to the horrors of war. Do have a look to learn more about this intriguingly left field approach."
Book Lecture
Talk about Class Wargames: ludic subversion against spectacular capitalism by Richard Barbrook
The Old Power Station/Elektro Ljubljana, Ljubljana, Slovenia, 22nd April 2015.